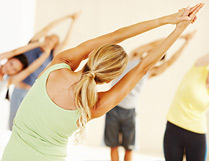 Hatha Yoga in Southport and Liverpool

Hatha Yoga is the main classical style of yoga taught with equal focus on asana(postures), pranayama (breathing exercises),relaxation and meditation techniques.

Yoga is an ancient way of healing oneself and maintaining a healthy balance of mind and body.

It builds internal strength, focus, body-awareness, releases tensions in the body, improves lung capacity and relaxes & calms the mind. Yoga is something a person can also practice privately to maintain their own well-being and balance out the daily stresses in their lives.

It costs £28 each month and our classes are designed as a rolling monthly course for those people who want to learn Yoga properly, safely and heal themselves in the process. These are not drop in classes. Just choose your weekly class and contact us to book

New practitioners should bring their own yoga mat, wear loose, comfortable clothing and have an open mind!

Classes are held in West Derby, Liverpool and Birkdale, Southport please view the Classes page for full details.

<font=italics>Please call/email for the next intakes on tuesday, wednesday or thursday</font=italics>
Private Yoga
We also offer private and semi-private yoga classes at our renovated victorian school hall where we can design a routine to suit individual circumstances.

Our 1 hour sessions can be geared towards a more dynamic Hatha Flow style which is good for toning and cardiovascular emphasis. Or designed for a more gentle pace to help those with stiff joints and tension in the body. Other sessions can be a mix of the two! Just let us know what you are looking for from your yoga.

For those who are stressed anxious and depressed we teach a few simple stretches, some breathing and meditation techniques to overcome the mind.

For more experienced practitioners we can teach more about advanced asana's, pranayama and kriyas, self-ayurvedic massage and meditation.

Private yoga is held at the School House, Walmer Road, Birkdale, Southport, with all equipment provided.